KüNO Workshop Series
'Species traits & food web analyses in the North Sea and the Baltic Sea'
Aim of the workshop series: This workshop series aims to promote professional exchange on methods and interpretation of species traits, particularly in connection with food web analyses, in the North Sea and the Baltic Sea. It is aimed at the scientists of KüNO and DAM projects and intended to ensure high quality and comparability of the data obtained in the projects of KüNO and DAM.
Focus of the 1st workshop on 28 April, 2021:
The first workshop addressed many basic questions about defining and delineating traits. After an introduction of methodical approaches of the involved projects, an exchange on the definition of traits started. There were lively dicussions on questions concerning the role of trait redundancy, trait modeling, whether only dominant species should be integrated and which traits show changes.
The 1st workshop was organized in cooperation with Prof. Dr. Ingrid Kröncke from Senckenberg am Meer.
Focus of the 2nd workshop on 13 October, 2021:
This workshop focused on scaling and quantifying traits. An input on advantages and disadvantages of different methods to quantify traits was given by Prof. Dr. Helmut Hillebrand (HIFMB). Trade-off in the choice between different methods for biodiversity analyses were discussed (categorial and continuous traits, fuzzy coding). Prof. Dr. Kai Wirtz (Hereon) gave a talk about trait-based analyses across taxa. Discussions were held both in plenary and in breakout groups to delve deeper into the topics.

The 2nd workshop was organized in cooperation with Dr. Anne Sell from Thünen Institute of Sea Fisheries.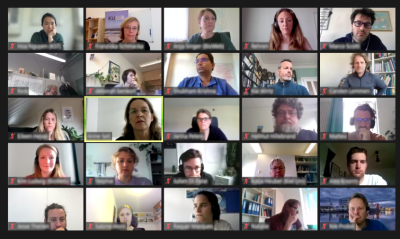 It is planned to hold workshops at regular intervals of about 6 months. Do you have questions or want to stay up to date with news about this workshop series? Then write a message to the Coordination Office Coast.